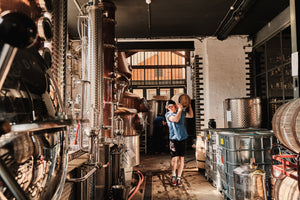 08 October 2021
East London Liquor Co.
East London Liquor Company was founded in 2015, in renovated warehousing on the canal banks of Victoria Park, in the heart of London's East End. Nowadays it's not uncommon for a distillery to have a small bar that serves samples of spirits, but the bar at ELLC is a different beast altogether, serving an array of cocktails, wine and food with the distillery on display behind a huge glass wall. Is it a distillery with a bar or a bar with a distillery? We're not sure, but we sure as hell like it.
When ELLC launched their London Rye™ a few years back (yes, they trademarked the name) it was the first whisky of its kind in over 100 years. ELLC have also laid claim to the first East London Single Malt, which they launched in 2019 making our October 2021 drop the third annual release.
This whisky is made from malted barley sourced from Great Ryburgh in Norfolk. It's mashed at the distillery in London and then fermented with distilling and saison yeasts for a total of five days.
The first of two distillations takes place in a 1,000 litre copper pot still, which captures all the big, bold flavours from that that long fermentation. The second distillation is in a smaller 650 litre still which has the ability to produce both heavy or light spirits thanks to an optional distilling column. ELLC use this still in both configurations then combine the resulting distillates, which by this point sit at around 70% ABV.
The spirit is then reduced down to 62% with the addition of water and it's ready to go in to barrels. The barrels are a mix of small Sonoma Bourbon and Rye casks, 200 litre Kentucky Bourbon casks, STR's (regenerated casks that have been stripped, toasted and re-charred) French red wine casks, and barrels that previously held ELLC's London Rye™. So a bit of everything really. Total maturation time is 3.5 to 4 years.
Finally the spirit is proofed down to 48% and popped in a bottle.
Or, yes, a pouch!