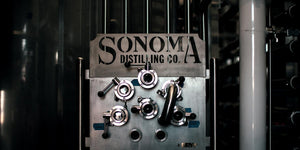 09 August 2021
Sonoma Distilling Company
The Sonoma Distilling Co. was founded by Adam Spiegel who, like many others, decided his New York finance job was a bit too unpredictable when the recession hit in 2008. He started making his own beer as a hobbie, which lead to making wine, which lead to grappa, which lead to whiskey. By 2009, he began to see the potential in what he was making and began working with a liquor lawyer in California to obtain a license to start a distillery.
The Sonoma Distilling Co. kicked in to action in February 2010, making it one of the first 200 new-wave distilleries in the U.S. (there are now over 2,000). The focus here is entirely on whiskey, which is more unusual than you might think as many American distilleries also try their hand at gins, vodkas and liqueurs too. Distillation is done in the Scottish style with double pot stills, which help to retain a great deal of flavour from the cereals.
Sonoma Cherrywood Rye is not, as the name might suggest, aged in cherrywood barrels, but rather the malted barley component of the mashbill is smoked with cherrywood chips. So what we're really looking at here is a slightly smoky rye whiskey. But wait! Isn't that cherry I can taste?! It sure is, but this is probably more a function of the rye grain itself (which commonly exhibits cherry-like flavours in the spirits it makes) rather than the smoke. However, if there is something to be said for using one type of wood over another, we reckon that cherrywood is probably the most appropriate for a rye.
So the final mashbill stands at 80% Rye, 10% Wheat, and 10% Cherrywood Smoked Malted Barley. The spirit is aged for a minimum of two years. 
We love this whiskey, which has a bright orange characteristic to accompany notes of cherry, then baking spices like ginger and cinnamon.