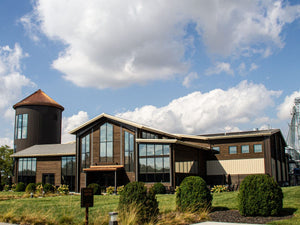 08 November 2022
Rebel Bourbon
The Rebel bourbon brand is a Kentucky straight bourbon currently produced by Luxco at Lux Row Distillers in Bardstown, Kentucky. Luxco own a few distilleries, including MGP (which under contract make most of the big brand rye products) and Limestone Branch, and within all that is around a dozen bourbon brands, including Yellowstone, Ezra Brooks and Rebel. The Lux Row Distillery is a relatively new operation (more on that shortly) in the context of the older Kentucky set, but the Rebel bourbon brand goes back some time...
Up until a couple of years ago, Rebel was known as Rebel Yell, which is a brand that dates back to the 1940's. It was created by Louisville mayor, Charles R. Farnsley, who teamed up with the Stitzel-Weller distillery to launch a bourbon brand to commemorate the 100 year anniversary of the company. 
The name Rebel Yell comes from the distinctive shouting sound made by confederate soldiers during the American Civil War. The yell's first appearance in combat may have come at the First Battle of Manassas, on July 21, 1861, and is strongly associated with the Confederate general Thomas J. "Stonewall" Jackson The association with confederacy may be a contributing factor in the renaming of the Rebel brand in recent times.
Rebel Yell was a real icon back in the day though, and ended up featuring in a few movies and even lended itself to a song and album by Billy Idol, Rebel Yell. Idol allegedly got the idea after attending a party with The Rolling Stones. It was, so it turns out, Keith Richards' favourite brand of bourbon. Idol explained on VH1 Storytellers that people were drinking "Rebel Yell" bourbon at the party and thought that would be a great title for an album. 
In the early 1980s, after some changes of ownership following the break-up of Stitzel-Weller around 1972, the brand was purchased by the David Sherman Corporation of St. Louis, Missouri which later became Luxco. By 1984, Rebel Yell was distributed nationally and being produced at the Heaven Hill distillery in Louisville.
Rebel bourbon was and remains to this day a wheated bourbon, notable for its higher proportion of wheat in the mashbill. This was the trademark style of Stitzel-Weller since its founding, so it can be (and is) argued that the Rebel 100 recipe dates back to the 1850's.
Luxco Distillers opened the Lux Row distillery in 2018, which is just four years ago at the time of writing. So while we began this article by stating that Rebel 100 is made there, this is only half true. the Lux Row distillery is busy manufacturing whiskey that will one day become Rebel bourbon, Ezra Brooks and David Nicholson brands (and no doubt a few others) but for the time being the Rebel 100 in your glass is more likely sourced from Heaven Hill.