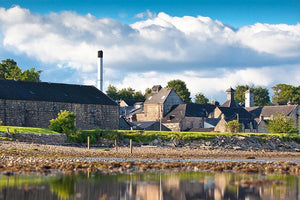 09 December 2022
The Dalmore
Dalmore, with its proud stagg head and blood red colour - only the mighty Macallan can compete on prestige amongst malt whisky investors. Just like Macallan, Dalmore is a powerful whisky, capable of holding its own through extended periods of time in European oak casks. This means old Dalmore can be especially complex stuff, like stuffing a cigar box filled with fruit cake and liqueur chocolates into your mouth all at once.
White & Mackay, who have owned the brand since 1960, have taken full advantage of these superpowers by more recently augmenting the core range of Dalmore expressions with a vast array of special release bottles that promise high statements and deliver a high price. Indeed, Dalmore seems to have well and truly found its place within the realms of high-rollers of this world, who tend to place at least as much emphasis on the status that a bottle affords them as they do the flavour of the liquid inside. Dalmore was the first distillery to break six figures when, in 2012, A bottle of Dalmore 62 year old was bought for a new world record of £125,000.
A few years before that a 62 year old bottle of Dalmore broke all previous records and sold at auction for £32,000 - it  was one of only twelve that had ever been produced and contained whisky distilled in the 1860's and 1870's.
It was around that time, in 1874, that the first water-jacketed spirits still was installed at Dalmore, which is one of the unique features of the distillery today. There's a second one there now, both of them promote a tremendous amount of reflux within the still and grant the distiller heightened flavour selection abilities. The wash stills are also geared towards copper contact, with flat tops and line arms protruding from one side. This is reflected in the new make spirit, which is broad in character, being both heavy and robust as well as light and effeminate. It's this distillery character that affords the spirit resilience to long periods in oak and differentiates Dalmore from other brands.
We find it fascinating that run of the mill engineering decisions made in the Victorian age resonate through the centuries and ultimately define the nature of a product that is sought after all over the world today.
This month (December 2022) we are featuring a slightly lower cost expression of Dalmore compared to the 62. 12 Year Old Sherry Cask Select is, however, quintessentially a Dalmore whisky. It exudes exotic spice, dried fruit and crisp citrus. In fact, it's pure Christmas in a glass.