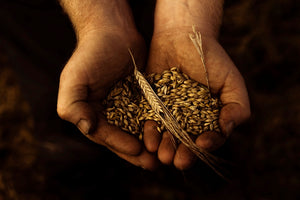 Waterford Distillery was founded in 2015 by Mark Reynier, formerly the co-owner of Bruichladdich, on Islay. Located in the southern Irish city of Waterford (famous for the crystal manufacturer by the same name, and an ancient Viking settlement) the distillery was converted from a brewery that had previously produced that well-known Irish stout, Guinness. 
The focus here is on local barley, showing that terroir has an impact on the final spirit (a project that Bruicladdich is also quite invested in). The idea then is to taste the origin of the raw grain in the finished single malts. For each bottling of their 'Single Farm Origins', the distillery uses only barley grown on a single farm. To achieve this, they work with over 100 Irish farms that grow 19 different types of barley, some of which are organic and some biodynamic. Waterford has also produced the first Irish whiskey that has been certified as organic by the Organic Trust.
The grains that Waterford use are stored in what they call the 'cathedral' which is effectively a large warehouse with compartmentalised grain silos running the length of the building. This can hold up to 35 different grain harvests here, and there is a second warehouse called the 'chapel' which is similarly arranged. The barley is dried here, before their partners Minch Malt malt it (without peat, although some experimentation has been done with Irish Peat through a malthouse in Scotland – the first peated releases came out in Autumn 2022) ready to be taken to the distillery for milling, mashing, fermentation & distillation. Each farm provides 120 tonnes of barley per harvest, which becomes 100 tonnes once it's dry. This becomes 75-80ish once malted and then that produces around 200-250 casks of spirit. Waterford have a hydro-mill and mash filter set up, which is unique in the world of single malt whisky, and their temperature-controlled fermentation times are a minimum of 120 hours & include a period of malolactic fermentation, which means the flavour of each farm is allowed to express itself fully & lots of esters are produced.
Waterford use groundwater filtered through volcanic rock to produce their whisky. The water is pumped via three different wells on the distillery site. The distillery's output is around one million litres per year, but the distillery plant is designed to produce up to three million litres on two stills.
Distillation here is done twice in pots stills in the same style as Scotland (Irish is typically triple distilled) and you might also notice that the 'e' has been dropped from 'whiskey', going against the Irish convention. Waterford is effectively a Scottish single malt, made in Ireland for the simple reason that Emerald Isle grows amazing barley and has the infrastructure in place to meet the demands of a terroir, single-farm obsessed distilling operation. It could also be said that the Irish whiskey industry is a greater potential for growth - particularly on the premium side of things - than the already well developed Scottish single malt industry.
Initially, Waterford distilled on old stills from Inverleven distillery in Scotland, which were made back in 1968. Due to Inverleven being mothballed in 1991, the stills moved to Bruichladdich, but were never used there – one sat in the carpark and often had a welly sticking out of its neck!  When Waterford were converting their old Guinness brewery into a distillery, they main equipment that was missing was stills. Unfortunately, when they tried to order some new ones from Forsyths, they were told there was a 3+ year waiting list for stills as Forsyths had so many projects booked in (lots of distilleries increasing capacity/reopening at that time, as well as being built new!), so Mark Reynier contacted his old team at Bruichladdich and had the Inverleven stills shipped over, cleaned up (wellie removed!) and installed – Waterford thought they'd get 3 years use out of them, but they lasted 5 years. The new stills from Forsyths were commissioned to be exact copies of the 'old ladies of Inverleven', one of which is now installed in the garden at Waterford Distillery.
Waterford run their stills very slowly – roughly 1/3 of the speed that Forsyth's recommends, which means their hearts-cut (which is always done manually by the distillers, despite the modernity of the rest of the distillery!) can be very precise, and also can be focused to carry through a great deal of the cereal character - and in particular the savoury, freshly-harvested-barley nose.  The wash still, with 19,000 litres capacity, is slightly larger than the spirit still, with 11,000 litres. The spirit is oily and aromatic and it takes 1 week to distil one farms spirit.
In order to ensure the focus of the flavour profile is on the barley, each farms spirit is filled into 4 kinds of casks, and these are combined in bottling to mean that Waterfords whisky doesn't taste predominantly of a cask-type, but of the barley. These are virgin American oak, first fill ex-bourbon, ex-premium French wine casks, and VDN (Waterford's catch-all term for sweetened and fortified wines like sherry, port, madeira, marsala etc). Warehouses are located a short journey away from the distillery, near the coast and are designed to ensure coastal breezes continually flow around the casks. Waterford spend a huge proportion of their total production costs on top-quality wood and the use of French wine casks to such a prominent degree is something Bruichladdich fans will recognise from Mark's time there.
In much the same way as wine is shaped by the specific terroir of the vineyard and the vintage, Waterford have to date released whiskies from around ten farms, and some of them from multiple harvests or seasons. Every bottle has a terroir code on the back which can be input on the Waterford website to reveal a staggering level of detail around the production of the whisky, from when the barley was planted all the way through to bottling, including pictures of the farm and farmers, and details of each and every cask used in the spirit you are drinking.
The Cuvee, our March 2023 world whisky, is a combination of 25 different farms, each turned into whisky & aged for a minimum of 4 years, 5 months & 19 days separately, and then layered together based on their flavour profile to create a rich and rounded single malt, and therefore the perfect introduction into what Waterford are up to.