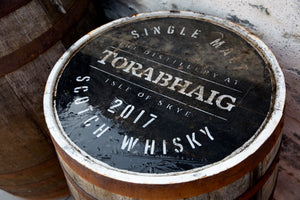 The Isle of Skye is the biggest of the Inner Hebridean islands and about the same size as Islay, the Isle of Man and the Isle of Wight put together. Talisker has been the sole distillery on Skye since its founding in 1830, and given the reputation that that distillery holds which has radiated into the island as a whole, it's surprising that it took until 2017 for another distillery appear.
However while Torabhaig might be new, it is a distillery project that has been in the making for over 50 years.
Sir Iain Noble, the man who founded Noble Grossart, Scotland's first modern merchant bank, moved to the Isle of Skye in 1972. He purchased 20,000 acres of land, including a hotel at Isle Ornsay, which had been part of Lord Macdonald's estate.
Noble – who founded independent blender and bottler Pràban na Linne (Gaelic Whiskies) in 1976 – planned to convert a 19th century listed farm steading at Torabhaig into a distillery. He'd obtained planning permission for the project as early as 2002, though sadly passed away in 2010 before his plans could be realised.
Around the time of his death, Mossburn Distillers, a subsidiary of Dutch drinks group Marussia Beverages BV, was also seeking a site on the island to build its own distillery. While the group hadn't previously considered the renovation and preservation of a historic building for its project, Noble's Torabhaig farm steading proved the perfect location.
Mossburn set to work renovating the property in 2013, which by that point was a shambles of old buildings. The project took three years, with a bespoke removable slate roof that was designed to allow access to the two stills for repairs.
The distillery commenced production in January of 2017 and the first bottles were released in 2021. Whisky here follows the island style and in particular the style of Skye - which has of course been established by Talisker - of medium peat, medium fruit and a certain oily salinity reminiscent of the sea.
The mash here is done in a 1.5 tonne kettle and fermentation in one of eight 8,000 litre Douglas Fir washbacks. The first distillation goes through Torbhaig's 8,000 litre wash still and comes off at an average strength of 26% ABV. The spirits still is 5,000 litres and produces a spirit at 69% ABV. Total output here is 500,000 litres of alcohol a year, or around 1.5M bottles of whisky. That might not sound like much but unlike most distilleries in Scotland all of the whisky made here is destined for single malt bottling (for the time being).