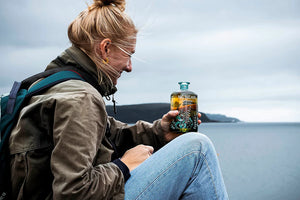 Nc'nean is a small malt whisky distillery located on the Sound of Mull, with views across the water to the island of Mull. Its position is pretty much as far west as you can go on mainland Scotland, and what with the various lochs and estuaries that penetrate the landscape, this makes Nc'nean a bit of an adventure to get to.
Nc'nean was setup by Annabelle Thomas, whose family owns the farmland where the distillery is situated. Production began in 2017 and the first whisky was released in 2020 (we featured it as a monthly dram!)
The approach here is organic, sustainable, tasty. 
They use only organic Scottish barley, the whisky is bottled in 100% recycled clear glass bottle, they recycle 99.97% of their waste, and the distillery powered by renewable energy. That renewable energy comes in the form of wood, sourced from in and around the estate. You might not think of burning wood as a particularly sustainable practice, but it turns out that cutting down and burning big old tress and then planting new ones (which Nc'nean do in partnership with Highland Carbon) actually captures more CO2 than it produces.
Throw in a super-efficient biomass boiler and you understand why it is that Nc'nean have been officially verified as net zero carbon emissions - a first for a UK distillery.
What with all these environmental credentials it's understandable that one might imagine attention to detail in production is neglected (as this is often the case) but not so at Nc'nean.
With that organic barley base, fermentation takes a leisurely 114 hours and production in general is diverse, with a range of spirit recipes being matured in red wine, bourbon and virgin oak casks. These are then married together in specific ratios to create each new batch of whisky. No two batches are the same.
And since Nc'nean is still only five years into spirits production we can assume that future batches will continue to be a journey of exploration as stocks mature and slowly a distillery style emerges. 
For what it's worth, we certainly think Nc'nean sits on the lighter, fragrant end of the whisky spectrum. The first release had a strawberry and cream note on account of those red wine casks. With this latest one (BU06 - the November 2022 dram) we're getting a touch of tropical fruit and more resolved spices from the barrel.