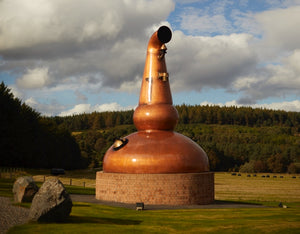 08 April 2023
Glenfarclas
Distilling activity was taking place on the Glenfarclas site since at least the 1790's. Like so many of the oldest sites, the farm buildings would have been pressed into service as a site for illicit distillation prior to the 1823 Excise Act. It took a further 13 years for original owner, Robert Hay, to take out a licence. John Grant, and his son, George Grant, bought the distillery following Hay's death in 1865 for £511.19s. Since then there has been a steady succession of John's and George's in the family, who have carefully built upon the Glenfarclas legacy, right down to the current owner, John Grant, and his son… George.
By remaining family owned, a lot of traditional practices have been retained at Glenfarclas. Of the 55,000 casks that the distillery currently holds nearly all are of the  ex-sherry variety, made from European oak, dating back as far as 100 years. So expansive are Glenfarclas' older stocks that their excellent visitors centre even offers a 'Five Decades' tour and tasting, allowing those with money to spare a taste of the past half-century. 
Glenfarclas do have a policy of reusing their ex-sherry casks up to four times, and their current production volume of 3.5 million litres of pure alcohol a year requires they receive regular deliveries. A highly unusual wood policy such as this puts a very firm stamp on a spirit, so expect to find tobacco, fruit cake and vibrant florals throughout the Glenfarclas range.
Get inside the guts of the distillery and size matters. The three pairs of wash and spirit stills are the biggest in Speyside and direct fired from gas. It's the direct firing and its associated browning of the still contents that can take responsibility for the robust and sweet new make spirit that stands up to those sherry casks well. Steam coils were trialed in 1982, but promptly removed a couple of weeks later due to the change in flavour that they produced.
The stills flank a typical polished brass spirits safe and a quite atypical 1970's Star Trek style control console that is still in continuous use today. The mash tun takes a whopping 16.5 tons of malt per cook, which we believe makes it the biggest in a Scottish malt distillery.
Glenfarclas were the first distillery to launch a Cask Strength whisky, way back in 1968. Most distilleries hadn't gotten around to bottling a malt whisky at this time, so the marketing meeting that established this bold move showed significant foresight - one of many benefits afforded to those with 150 years of family ownership, no doubt.
You will rarely see Glenfarclas bottled by anyone other than Glenfarclas, so we consider ourselves privileged to be featuring this distillery for the third time. We have previously shared with you Glenfarclas 105 and Glenfarclas 25. We think, however, that the 15 is really the jewel in the crown of this distillery and the truest reflection of the brand.