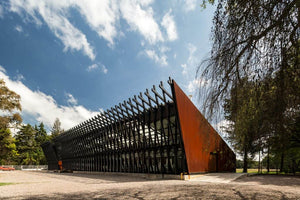 A new distillery, Destileria y Bodega Abasolo, is the first purpose-built whisky distillery in Mexico and one of the highest whisky distilleries in the world at 7800ft.
Abasolo El Whisky De Mexico is distilled from fermented 'nixtamalized' Mexican Cacahuazintle (kaka-wha-SINT-lay) corn, which has been cultivated by Mexican farmers for generations and is regarded for its flavour.


Cacahuazintle corn only grows at elevations of more than 7,000 feet above sea level and is widely grown in the high valleys throughout the Mexican states of Tlaxcala and Puebla. This corn's large kernels are used to make pozole, esquites and corn bread.

Nixtamalized foods (such as corn tortillas) became extremely important to the early Mesoamerican diet. Not only does this method kill off toxic fungus, but the process increases the nutritional content of corn drastically. 
The process also improves flavour, and gives tortillas that distinctive intense taste of fresh, sweet, buttery steamed corn that is also slightly malty, roasty, and chewy with a slightly fermented vegetal character.
While American bourbon makers use at least 51% corn (typically 70-80%) plus a percentage of barley and rye or wheat, the nixtamalization process allows Abasolo to use 100% corn to make their whisky.
Abasolo's primary ingredient also speaks directly to the terroir of the region. The distillery exclusively uses the heirloom cacahuazintle corn (pronounced "kaka-wha-sint-lay"), instead of GMO corn hybrids that are more readily available commercially. Corn is native to Mexico and cacahuazintle is an heirloom variety, meaning it has not been bred or modified by human hands. It also means that it is not a great commercial option, yielding far less alcohol than a GMO alternative. The trade-off however, is flavour, which this corn has in spades.
A small fraction of the corn used in the Abasolo whisky mash is malted and this is milled and incorporated into the mash. Fermentation lasts for more than 120 hours and then the fermented wort is double distilled in traditional copper stills. The spirit is matured in new toasted and used oak casks in an open warehouse with a light roof and no walls to encourage temperature fluctuations.
The flavour is unsurprisingly corn driven, with buttery, juicy corn kernels and vanilla, along with a touch of spice and nutty, oak flavours.