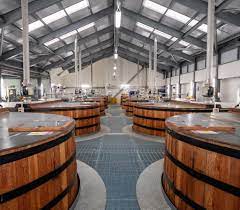 Founded in 1817 by Hugh Munro, Teaninich holds the distinction of being one of the earliest legally licensed distilleries in Scotland. However, its roots can be traced even further back to the late 18th century when an illicit distilling operation thrived on the same site. With the passing of the Excise Act in 1823, which paved the way for legal distillation, Teaninich embraced a new era of legitimacy and growth.
The distillery's name, "Teaninich," is believed to be derived from the Gaelic phrase "Taigh-na-h'inich," meaning "house of the monks," hinting at its monastic past. Although no conclusive historical evidence supports this theory, it remains an intriguing part of Teaninich's folklore.
Throughout its history, Teaninich has experienced various changes in ownership, each contributing to its progress and character. In the mid-19th century, Captain Hugh Munro, son of the founder, passed the reins to his brother Robert, who significantly expanded the distillery's capacity. In 1904, the distillery underwent an architectural transformation when renowned architect Sir Robert Lorimer redesigned its buildings, enhancing both functionality and aesthetics.
The 20th century saw Teaninich's fortunes intertwined with the ebbs and flows of the whisky industry. Ownership changed hands multiple times, each time bringing new ideas and innovations to the distillery. In the 1930s, the distillery joined Scottish Malt Distillers (SMD), a move that helped establish its reputation as a key contributor to blended Scotch whiskies.
During World War II, like many other distilleries, Teaninich faced restrictions on production due to grain and barley shortages. However, it emerged from the war with determination, resuming its operations and contributing to the post-war boom in the whisky market.
In the early 2000s, a significant refurbishment took place, modernising and optimising Teaninich's facilities. Despite the updates, the distillery retained its traditional methods, a harmonious blend of heritage and innovation.
Teaninich's whisky is known for its distinctive character, shaped by various factors including its unique mash tun configuration and long fermentation periods. The distillery employs a combination of both modern and traditional yeast strains, imparting an intriguing complexity to its spirit with notable elements of green tea and incense that give it an Eastern feel.
Moreover, Teaninich's whisky undergoes a process of partial triple distillation. Although uncommon in the whisky industry, this approach yields a spirit of remarkable smoothness and complexity, setting it apart from its peers.
Throughout its storied history, Teaninich has largely remained a hidden gem, with a substantial portion of its whisky used for blending purposes. However, in recent years, single malt expressions from the distillery have gained recognition among whisky enthusiasts, appearing in independent bottlings as well as the only semi-official bottling of Teaninich - Teaninich 10 Year Old Flora & Fauna. 
We're very excited to have partnered with Carn Mor for our own unique bottling of Teaninich. Aged for just under six years, it retains a lot of that herbal, green tea character, coupled with chocolate and musty dunnage warehouse aromas.