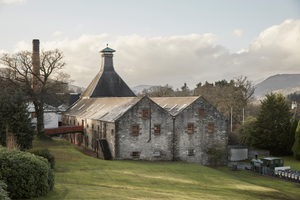 06 November 2023
Aberfeldy
Aberfeldy Distillery, founded in 1898 by the Dewar family, is a notable establishment in the whisky industry. Located in the town of Aberfeldy near the River Tay, the distillery has been in operation for over a century. Its longevity speaks to its commitment to quality and tradition. While many distilleries have modernised their operations, Aberfeldy retains much of its original architecture and equipment, offering a glimpse into the whisky-making methods of the past.
One of the unique aspects of Aberfeldy's production is its water source. The distillery uses water from the Pitilie Burn, which is rich in mineral deposits and, some say, gold. This water contributes to the distinct flavour profile of Aberfeldy whiskies. The distillery also employs a longer fermentation process compared to many other distilleries, allowing for a fuller, more complex flavour development. Traditional copper pot stills are used for distillation, and the whisky tends to be aged in a mix of ex-bourbon and sherry casks.
Aberfeldy is a major contributor to the Dewar's blend (as its original construction intended) but in recent years has become a product in its own right, helped along by its highly accessible flavour profile. Aberfeldy 12 Year Old is a standout product that reflects the distillery's approach to whisky-making. Aged for 12 years, this whisky is a balanced blend of flavours and aromas. It offers notes of honey, vanilla, and apple. Some people detect smoke in there too. The finish is warming and has a subtle spice. While the flavour profile is complex, it is not overwhelming, making it accessible to both newcomers and seasoned whisky drinkers. The use of both ex-bourbon and sherry casks for maturation adds layers to its taste, giving it a rounded character that is both rich and smooth.
Visitors to the distillery can take a guided tour that covers the entire whisky-making process, from mashing and fermentation to distillation and maturation. The tour concludes with a tasting session, offering a hands-on experience that complements the theoretical knowledge gained.