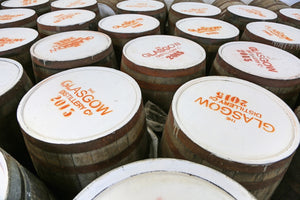 07 February 2023
Glasgow Distillery Co.
In 2014 The Glasgow Distillery Company became the first Single Malt Whisky Distillery in Glasgow for over 100 years. 
Founders Liam Hughes, Mike Hayward and Ian McDougall adopted the name Glasgow Distillery Company from one of Glasgow's original whisky distilleries. Back in 1770, the original Glasgow Distillery Company was founded at Dundashill and remained active until the beginning of the 20th Century.
Glasgow was once a city with a vibrant distilling trade, but by the 21st century only one whisky distillery (Strathclyde, which produces grain whisky) remained.
Having secured funding from private investors in Asia, together with a £130,000 Scottish Enterprise grant, the new Glasgow Distilling Co. acquired the lease for a building in Glasgow's Hillington Business Park in 2013.
By the end of the following year it had begun producing Makar Gin and by March 2015 the first casks of its Glasgow single malt were being laid down.
The distilling magic happens within their unique copper pot stills christened: 'Annie', 'Mhairi' and 'Tara' - after family members of the three founders - with later editions 'Margaret' and 'Frances', named after two of Glasgow's most influential female artists and sisters, Margaret and Frances MacDonald.
The spirit produced by Glasgow distillery's two copper pot stills is light and fruity, and following maturation in ex-Bourbon casks will result in a whisky typical of a Speyside distillery. However, with no precedent of a typical Glaswegian whisky style to work from, the distillery's founders are keen to forge their own 'metropolitan' style. The team are already distilling both peated and unpeated malt, and experimenting with laying whisky down for full maturation in ex-port, sauternes and marsala casks to name a few.
In June 2018, they announced plans to double its production capacity to more than 1m bottles a year ahead of schedule, with the installation of two new copper pot stills from Carl in Germany (Margaret & Frances) – exact replicas of the plant's existing pair. Seven washbacks would also be added, taking the total to 11.
the distillery's first single malt was released as a limited edition in 2018. The first widely available release was launched in April 2019 as part of the 1770 range, which will also feature a peated malt and a triple-distilled whisky. We featured this whisky around the time of its release and then again about a year later, which was a fun comparison to make as the whisky found its feet.
In February 2023 we are featuring this distillery for a third time, this time with a Whisky Me exclusive, matured entirely in marsala casks.