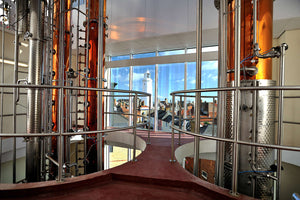 Adnams are better known for their brewing (which they have been doing since 1872) and pubs than they are for their whisky and gin, however this is slowly changing.
In 2008 the Adnams Chairman, Jonathan Adnams, along with some of the brewing team, started exploring the possibility of making spirits. After touring some of the emerging distilleries in the US, the project came to life in 2010 with the opening of the Adnams Copper House Distillery, which has somehow been squeezed in and amongst the old brewery buildings in the heart of Southwold.
The vision was that the Copper House Distillery would draw on Adnams brewing heritage, and in conjunction with the brewery, produce quality spirits from 'Grain to Glass' on a single site. This was the first time in recent memory that a UK brewery began making spirits, and since all of the products at Adnams are distilled from scratch (nearly all the gin producers in the UK buy in neutral grain spirit to make their gin - Adnams do not) it immediately placed them in a very exclusive club.

After rebuilding our brewhouse in a new area on site, they removed the old brewing plant, leaving two old brewing coppers that sat in the Copper House, in what was now a redundant part of the building.

With the installation of handmade copper stills and rectifying columns made by Carl GmbH in Germany, this refurbished building got a new life as the Copper House Distillery. They installed a beer stripping still, a copper pot still, and a 45-plate rectifying column, in a triple column configuration, as well as the supporting tanks and equipment. Since then, to the right of the original installation, they have added two more pot stills including a dedicated 900-litre copper pot still with an Alembic head, used to make whisky.

The spirits begin life in the brewhouse, where they take malted grains, add water and heat, and covert the starch in those grains to sugar. This is fermented with Adnams house yeast (which has been in continuous use since the 1940's) to create a wash that is used in the distillery. 


Adnams use locally grown, East Anglian malted cereals. Adnam's Rye Malt is made from a mash bill of 25% East Anglian malted barley and 75% rye (grown by Jonathan Adnams at his farm in Reydon). After distillation, it is matured in new French oak for at least five years.