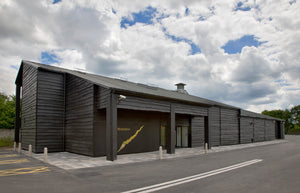 If Welsh whisky sounds a little strange  to you, allow us put you at ease. Penderyn have been making whisky in Wales for over 20 years now, which is easily long enough to establish the category despite there being only a handful of other distilleries entering the market (Dà Mhìle, Aber Falls, Coles). Moreover, distilling in Wales has a long and rich history.
Legend has it that Reaullt Hir ("The Great Welsh Warrior")  distilled chwisgi from beer brewed by the monks of Bardsey Island in AD 356. These monks then allegedly developed the art of distilling further. However, the the name Reaulit is a High Medieval loanword from Anglo-Norman French and would not have been used before the eleventh century. Also, there is scant evidence of distillation apparatus in Europe before the 12th century. But since Scotland' oldest reference to the manufacture of whisky comes from the late 15th century it is possible that Wales got in there first! 
What we do know is that by the nineteenth century the Welsh whisky industry was thriving, as whisky enjoyed its heyday period. By the end of the century it was in decline however, with the main and most notable distillery being that of R. J. Lloyd Price. The Welsh Whisky Distillery Company obtained a royal warrant and included Royal in its title, a moniker assigned to three malt distilleries in Scotland (Brackla, Lochnagar and Glenury)
The Welsh Whisky Distillery Company died in 1910 (the distillery became a POW camp for German soldiers during WWI) and Wales would have to wait almost a century for a whisky revival. In 2000 the foundation of the Welsh Whisky Company (now known as Penderyn) was announced. A distillery was built at Penderyn in the Brecon Beacons National Park. Production commenced in 2000 and the finished product, the first whisky commercially produced in Wales for a century, went on sale in 2004 in the presence of none other than the Prince of Wales himself, Charles.
Whilst most Scottish and Irish distilleries use a conventional two or three-pot still system, the technology developed at Penderyn allows an extremely clean 'flavourful' spirit to be produced from a single "Faraday" still, designed by Dr. David Faraday, descendent of the ground- breaking Victorian scientist, Michael Faraday. More recently Penderyn have added another Faraday still as well as two lantern shaped stills.
As wells as new stills, Penderyn have new distilleries too... Their second location opened in Llandudno, North Wales, in May 2021, and a further distillery is planned for Swansea, in South Wales, later this year.
Portwood, as the name suggests, is finished in casks that were previously used to mature port wine. Known in the industry as 'port pipes' these barrels are amongst the largest typically used to mature whisky, ranging from 350 litres to 550 litres — almost three times the size of a bourbon cask. The port cask imparts a soft, pink blush to the whisky, along with berry fruit and floral notes.