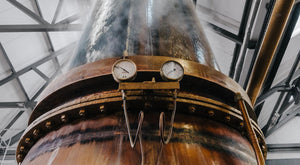 07 September 2022
Fettercairn
One of the main attractions of Laurencekirk, the village nearest to Fettercairn, is a huge, ostentatious red sandstone archway spanning the road that commemorates the visit to the village of Queen Victoria and Prince Albert in 1861. The Royal couple were staying at Balmoral and obviously enamoured by the village, snuck away on the evening of the 20th September to stay at the Ramsay Arms (the village pub). They enjoyed drinks and a meal there, all in secret.
By that time, the Fettercairn distillery was already into its foruth decade, having been founded in 1825 by the local landowner Sir Alexander Ramsay. Ramsay was one of the first Scottish landowners who campaigned to license Scotch Whisky distillation. In 1824, he applied for a license, and the Fettercairn distillery was opened. He recruited illegal whisky makers to be his first stillmen. Ramsay sold his estate, including the distillery, in 1830 to Sir John Gladstone, father of four-time British Prime Minister William Ewart Gladstone (he was Chancellor of the Exchequer when Vicky & Al were in town).
The Gladstone family had little to do with the operations of Fettercairn however, and allowed the distillery to be run by tenants right through until its sale in 1923. The distillery was closed during this period of downturn and eventually ended up in the hands of Associated Scottish Distilleries (ASD, the Scotch arm of National Distillers of America which, at its height, owned Bruichladdich, Glenury Royal, Glen Esk, Glenlochy, Benromach and Strathdee).
When ASD ceased trading in 1954, its estate was split up and Fettercairn ended up in private hands. Its new owner, Tom Scott Sutherland, had the distillery until 1971, when it was bought by Tomintoul-Glenlivet; from there it joined Whyte & Mackay.
Like most distilleries, Fettercairn has mainly been a contributor to blended whisky, but it has long been bottled as a single malt though not necessarily been made widely available. Whyte & Mackay began making efforts to promote Fettercairn malt in 2009 when a range of aged expressions and some NAS bottlings under the name Fior and Fasque (the name of the Fettercairn estate) were released.
More recently, in 2018 Fettercairn was relaunched (with fresh new packaging) by Whyte & Mackay with a new range of single malts aged between 12 and 50 years old. We visited Fettercain in the summer of 2019 to video the distillery ahead of sending out the 12 Year Old in October of that year.
Fettercairn's core range of whiskies change subtly every year. The 2021 release of 16 year old (the whisky we are sending you in September 2022) is notable for its use of oloroso and palo cortado sherry casks for maturation. The upshot is a balanced delivery of flavour, ranging from spiced ginger to honeyed malt, banana, and lemon sherbet.