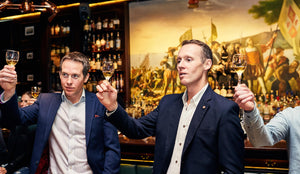 The Dublin of the 19th century was an absolute powerhouse of whiskey production. The areas around Thomas Street and the Grand Canal basin, were filled with breweries, malting houses, and four of the biggest distilleries of the time - of any time - John Jameson & Son, John Power & Son, George Roe & Co. and William Jameson & Co. Between them had a combined output of over 5 million gallons of pot still whiskey per year - over twice that of the whole of Campbeltown (the 'whisky capital of the world') during the same era. The spectacle of such an enterprise is almost impossible to envisage in the modern age of tankers and containers, but back then have been reminiscent of an insect colony, filled with dust and smoke and alive with hordes of horse drawn carts carrying whiskey and cereals, winding around corners and up through passageways. The downturn in the 20th century forced the merger of these distilleries in to IDL, keeping the brands alive but dampening their identity and individuality in the process.
In time Ireland had just two active whiskey distilleries. Today there over a dozen and twice that again in planning stages. The poster child of this revival is Teeling.
The Teeling connection to whiskey goes back at least as far as 1782, when Walter Teeling set up a distillery in Marrowbone Lane in Dublin's 'Liberties' district. Skip forward a couple of centuries and John Teeling becomes the founder of the Cooley distillery in Co. Louth. The site had formerly been a government run facility converting potatoes into industrial ethanol and just before being bought by Teeling it also produced the spirit that went in to Bailey's Irish Cream Liqueur. Teeling himself allegedly didn't drink much whiskey, but recognised the need for an independent Irish distillery and leveraged it as is the entrepreneurial way. It wasn't an easy ride, the distillery was threatened with closure, or worse (purchase by IDL) but Teeling kept things afloat and increased the portfolio of products to include Connemara, Greenore, Kilbeggan, Lockes and Tyrconnell brands, amongst others. In 2011 the distillery was sold to Beam Suntory for €71 million.

And so begins a new legacy of Teeling whiskey in Dublin, operated by a new generation of Teeling brothers, Jack and Stephen. The brand logo, a phoenix rising from a pot still, symbolises the re-establishment of the Teeling whiskey brand. Early releases were made up from the 16,000 casks that Jack and Stephen bought from  Cooley, but the latest expressions which bear no age statement are made from at least partly whiskies made at the Teeling distillery in Dublin, which kicked in to action in 2015.
The distillery has an annual production capacity of 500,000 litres of pure alcohol, most of which is devoted to making Irish Pot Still whiskey. Pot still whiskies are made in after the same fashion as single malts, only the cereal is mostly unmalted barley (with a little malted) and is distilled three times instead of the usual two. This results in a lighter style of new-make whiskey of around 81-82% ABV. 
However Teeling Small Batch is a mixture of malt and grain whiskies, much like a blended scotch. The malt component is made at the Teeling distillery in Dublin from 100% malted barley which, after mashing and fermentation, is triple distilled and matured in ex-bourbon casks. This is then blended with mature grain whiskey sourced from Cooley and finished in ex-rum casks for 12 months.