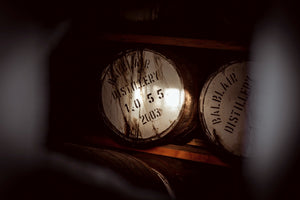 Balblair is one of the oldest active distilleries in Scotland, having been originally founded in 1790 by John Ross. The Rosses are to the town of Edderton what the Beams are to Bardstown, and half of the employees at Balblair having the surname Ross and two of them even called John (none are known to be direct descendants of the founder, and rather interestingly, none are known to be directly related to each other either).
John Ross himself wrote an entry on 25th January 1790, which read "Sale to David Kirkcaldy at Ardmore, one gallon of whisky at £1.8.0d." The distillery was operated by John Ross's sons and grand sons until 1894, when it was sold and relocated about 1/2 mile up the hill in order to, as the Victorian whisky writer Alfred Barnard noted, "get the benefit of gravitation working in the distillery… so no pumps are necessary."
By the late nineteenth century Edderton was known a the 'Parish of Peat' and Balblair would certainly have burned its fair share - the distillery was making three times the volume of nearby Glenmorangie at that time (it's the other way around these days). No peat is present in Balblair nowadays, although in 2013 they did release a 1990 vintage that had spent some time in a Islay casks from Islay.
The distillery is labyrinthine in its nature, with walkways emerging and disappearing here and there in an impossible Penrose staircase fashion. A single person can operate the entire distillery from the computer screen that was installed in 2011, outputting around 1.8 million litres of alcohol a year. About three-quarters of that goes to blends with almost all of the rest going in to Bourbon casks for maturation as malt. There are some ex-sherry casks knocking around too.
If you're unable to visit Balblair but would like to see a little more of the distillery, be sure to watch the 2012 movie The Angel's Share, which sees the co-conspirators and heroes of the movie siphon whisky from a sadly mythical 'Malt Mill' cask through the window of one of the Balblair warehouses.