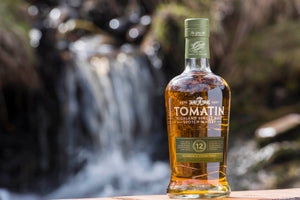 Tomatin is a Highland single malt distillery, located around 25 miles south of Inverness. The distillery was established during the boom time of the late 19th century, in 1897, under the name Tomatin Spey Distillery Co. Ltd. The name derives from the Scottish Gaelic name Tom Aitinn (hill of juniper). The river Findhorn rises at Coignafearn, a large game estate near Tomatin, and then passes through Tomatin village itself. The village was pretty much non-existent before the arrival of the distillery, which grew up around it as the whisky business blossomed.
Indeed, Tomatin is not a particularly well known distillery these days, but by the 1970's it was the largest malt distillery in the world by production volume. This was partly thanks to the location of the distillery, which was picked by founder John MacDougall for its proximity to the newly formed Highland Railway that was built in the 1980's. A good railway line meant easy transportation of cereals and wood in and finished whisky out.
MacDougal failed as an operator however, and it wasn't until an experienced wine and spirits merchant took over in 1909 that things began to take off. Going from two stills capable of producing 225,000 litres of alcohol in 1911, by 1975 Tomatin was producing 50 times that number across 23 stills! If the 1970's Tomatin was operational today it would be second in size in Scotland only to Glenfiddich and Glenlivet.
The distillery closed in 1985 during the whisky slump, but remained closed only for a year, when two Japanese companies, Takara Shuzo and Okra & Co., bought the operation and began a new chapter in Tomatin's story. 
The new approach has been one of quality over quantity. Like most malt distilleries, the vast majority of Tomatin's production goes into blended whisky, including its own brands of Antiquary and Talisman. Also like most other distilleries, of late Tomatin has been making efforts to bolster its name as a producer of single malts and is expanding its core range. In 2003, the 10 year old malt was replaced by the 12 year old and a variety of older expressions have emerged too. More and more Tomatin juice is ending up in single malt bottlings than ever before, which can only be a good thing.
Tomatin market themselves as the "Lighter Side of the Highlands' which points to the softer, more delicate character of their products when put up against the more typical robust and wild drams we tend to find in this region.