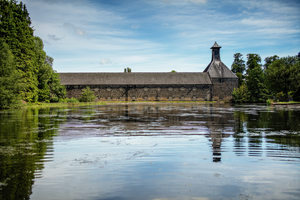 08 December 2021
Linkwood
The Linkwood distillery is located on the outskirts of Elgin, in the heart of the Speyside region. The distillery was originally built in the 1821 and kicked in to action in 1824, shortly after the 1823 Excise Act which successfully curtailed illicit distilling in the region. Linkwood was completely rebuilt in the 1870's and a new distillery building was added opposite the old one in the 1970's. By this point it was under the ownership of the Distillers Company Limited (DCL) which through a series of mergers would eventually go on to become Diageo. In the 1980's Linkwood's older distillery building became an experimental site, used by Diageo to research distillation techniques and their affects on the resulting spirit.
The spirit made at Linkwood sits on the lighter end of the Speyside flavour spectrum, being almost Lowland in its delicate, fragrant quality. However, there is a weight to the spirit once it gets in your mouth, which makes it prized by blenders. Indeed, over 99% of Linkwood is destined for one of Diageo's blended whiskies. The rest appears in the occasional independent bottling or is packaged as the only official distillery release, Linkwood Flora & Fauna 12 Year Old. 
The bottle has the emblem of a swan on the label, which is a reference to the distillery's resident population of Swans. Legend has it that longtime manager Roderick Mackenzie thought the environment so important to the taste of Linkwood, he forbade the removal of spiders' webs from the rafters in case the character were to change.