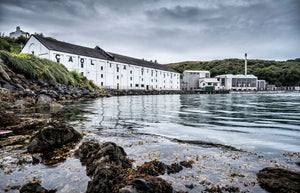 When we think of Islay whiskies it's usually the big names like Laphroaig, Bowmore and Ardbeg that spring to mind. But Caol Ila, or 'Sound of Islay' as it translates too, is the quiet giant of the island, turning out more whisky than any other producer.
In the past most of the spirit made at this distillery, recessed in to the cliff near Port Askaig, went in to blends like Johnnie Walker, and much of it still does. Indeed, were it not for Johnnie Walker and J&B's thirsty need for something smoky you would have to question where 324 tons of barley that gets delivered to Caol Ila every week actually goes. But Caol Ila has established itself as a competitive stand alone malt in recent years, and rightly so.

From the outside the beautiful old warehouse, which dates back to the distillery's founding in 1846, is contrasted by a much newer production building that replaced the old one in 1970. The still house overlooks the thin stretch of water that is known as 'the sound', to the rising 'paps' of Jura. A view that would challenge any distillery for sheer breathtaking magnificence and made all the more epic by the four gigantic stills that pump out 6.5 million litres of new make spirit a year.

Caol Ila is a 24 hour operation, manned by only one person at a time. The stills are only 50% filled, giving prolonged conversation with the copper. This integrates the peat nicely in to a citrus driven dram. Here, it's not an all out domination of peat, but a controlled melody of smoke that wafts and wavers through the dram, plucking out other interesting facets as it goes and leaving behind a taste of Islay in its wake.


Production increased in 2011, "It was the wash backs that were holding things back" Billy Stitchell, the now retired distillery manager once told us. Another two were added to make six in total and it effectively doubled the output of the distillery. The washbacks here are different than most in that they are vented and the CO2 that is produced by the fermentation is pumped out of the massive Canadian larch containers. This makes for a spookily empty experience when you dip your head in to the airspace and your nose is greeted by a soft breeze, rather than the usual pungent sting of fermentation.

Billy Stitchell over saw things at Caol Ila for nearly 40 years years until he retired at the end of 2013. This marked the end of the Stitchell family legacy at Caol Ila, who have acted as Regent for for the distillery for four straight generations. His exit was marked by the special release of Caol Ila un-peated, entitled 'Stitchell Reserve'.
As one of Tristan and Tom's favourite distilleries in Scotland, we are super excited to have bagged three unique casks of Caol Ila and to share their contents with you, our members. Our 10 year old release has been cut to a respectable 52% ABV, thus retaining much of the cask character while ensuring we have enough to go around! We get notes of coal smoke, fresh citrus and a little maritime influence too.
Below is the video we recorded at Caol Ila when we visited back in 2018.