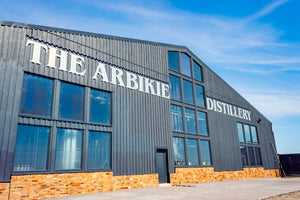 Arbikie is a very new farm to glass distillery owned by the Stirling family. Located on the east coast of Scotland, not far from Dundee, it is one of a new wave of farm distilleries that pay special attention to ingredients by managing whisky production from the sewing of the seed right through to blending and bottling. This gives the Stirling family unrivalled influence over their final product, being able to select not only the variety of grain but also where it is planted, the type of soil used to grow it, and the perfect time to harvest - all before even getting in to the intricacies of whisky making itself!
Farming in the Stirling family goes back at least as far as 1660, initially on the west coast of Scotland. The lands passed through seven generations until Bill Stirling moved to Lunan Bay (the sunniest part of Scotland with about 1500 hours of sunshine every year) on the east coast of Angus in the 1920's. He then passed his land on to his son John, then his son Alec, who expanded the acreage further. The Arbikie distillery and farm estate is today run by Alec's sons, John, Iain and David.
As with most places in Scotland, there is a history of distilling on the Arbikie lands, which dates back to 1794 - over a hundred years before the Stirling family arrived. The modern Arbikie distillery is located on the farm, in the remains of the old cattle barn overlooking the coast. The distilling team is led by Master Distiller, Kirsty Black (listed in the top ten female master distillers in the world by Spirits Business Magazine) and Christian Perez. Besides making whisky, Arbikie produce a range of vodkas and gins too. 
Where whisky is concerned, Arbikie took things in a brave and exciting direction. Their first whisky release is not a single malt but in fact a rye whisky. Scottish rye whisky hasn't existed for more than a hundred years, so unlike single malt there are no particular expectations or assumptions on style or taste. Highland Rye 1794 is made from from a mash of Arantes rye, Viscount wheat, and Odyssey malted barley then matured in new, charred American oak barrels. It is distilled in copper pots, which retains much of the character of those carefully grown cereals, which are necessary to do battle with the flavoursome new oak.
The end result is not like a typical American rye whisky, nor is it like any other single grain scotch we've tasted. But rather something new. Or old? Sottish rye whisky.