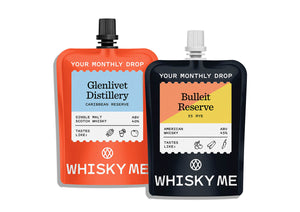 22 April 2021
WHISKY ME: Single Malt Scotch vs. World Whisky
If you're about to join Whisky Me, one of the questions you might be asking yourself is whether to go for the Scotch Single Malt (SSM) subscription or World Whisky (WW) Subscription. Or natural response to this is to say "try both!" but for those of you with better restraint this article is might help you make an informed decision. 
Whisky Me is all about exploration, and we have gone to great lengths to ensure that both the Scotch Single Malt and World Whisky subscriptions deliver whiskies that will surprise and delight you. We partner with distilleries big and small, old and new, known and unknown. 
Let's take a look at each subscription separately to establish the key differences. We will begin with SSM, which was our first subscription option and has been running for three and half years now, delivering somewhere in the region of 100,000 pouches to our members in that time.
Scotch Single Malt Whisky
Our SSM subscription gets you a pouch of malt whisky from a single Scottish distillery each month. There are around 116 malt distilleries operating out of Scotland right now and we have partnered over 40 of them to date. So there are still a fair few more to go, but also new and different expressions from distilleries we have previously visited. Although SSM has fairly strict production parameters compared to WW, it is still extremely diverse in the styles and flavours that fall under that heading. We have featured light, fragrant whiskies with herbal or floral notes, right through to rich and juicy whiskies with powerful smoky characteristics. And everything in-between. Suffice to say that you could stay with a SSM subscription for years and continue to find new and exciting whiskies that you will have never tried before.
A list of good things about a SSM sub:
Explore a specific producing country and get granular with the styles it produces
Never deviate top quality Single Malt Whisky from Scotland
Styles are varied but less so than World Whisky
Product is shipped directly from our bottling facility in Scotland
Detailed tasting notes, food parings and monthly live tasting
Better for folks who:
Don't like bourbon
Are looking to further their exploration of scotch malts
Would rather play it safe
World Whisky
The WW subscription is our new baby and something that we're very excited to show off. Sign up to this subscription and you'll receive a monthly pouch of whisky that could be sourced from any one of the thousands of distilleries and blenders from over fifty countries that now produce whisky. Not only will you be receiving whiskies from different producing countries - each with their own take on how whisky should be made - but you will be receiving different whisky categories too: bourbon, rye, wheat, single malt, single grain, blends, and other really weird stuff that will blow your mind. If you're up for exploring the outer limits of the whisky category, or keen to be one of the first to encounter the next most talked about distillery in the world, this subscription is for you.
A list of good things:
Explore further afield taking in the full breadth of the global whisky category
Celebrate variety by drinking whiskies made from a range of cereals, produced in very different ways, and often exhibiting flavours that you wont find in Scotland
Discover distilleries that you might never have heard of
Detailed tasting notes, food parings and monthly live tasting
Better for folks who:
Want the full, uncensored whisky experience 
Have a good amount of experience with scotch and want to see more
Like being surprised
Appreciate variety
If you're still unsure which one is right for you, remember there's absolutely nothing stopping you from signing up to both subscriptions to test the water. You can always cancel one later down the line, though there's a good chance you might get used to two pouches landing on your doormat every month and not want to!