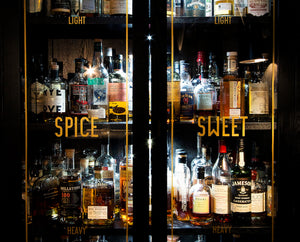 22 April 2021
Whisky By Flavour
The whisky category can be a daunting place if you're just starting out on your whisky journey, and even folks who have years of experience exploring whisky can easily find themselves bamboozled by the diversity of the products available to them. The range of products available is one of the things that makes whisky great, but understanding the full spectrum of whisky styles available and then learning how to select them can be a bit of a challenge.
Ever since we opened our first whisky bar, Black Rock, in 2015, we have been championing the marketing of sale of whisky by flavour. This goes against the traditional notions of organising whiskies by their base material (malt, corn, rye, etc.) country of origin, region, and distillery. These systems have worked okay in the past, but conformity to regional styles is no longer a given, with even individual distilleries sometimes producing a range of different tasting whiskies that could have been sourced from anywhere in the world.
Flavour, however, is a unifying feature of all whiskies and can be tracked and mapped on a dram by dram basis. It allows us to communicate exactly what a whisky tastes like rather than what it might (or should) taste like based on a few made up geographical borders or some assumptions about what cereals are available in that region. It's also, ultimately, what we're looking for in a whisky. Whether it's a fruity malt or a spicy rye you're after, it's far better to talk of these spirits as flavours rather than products of a specific grain or location.
The malt whisky flavour map was created for this purpose, by plotting distilleries on to a flavour map with axis that represent certain taste characteristics. The malt whisky flavour map can be difficult to navigate however, and especially so when the number of distilleries increases beyond 20 or 30. It also doesn't take in to account the variety of flavours that a single distillery can produce.
At Black Rock (and now Whisky Me) we took a different approach. Black Rock was the first whisky bar in the world to have no bar and no back bar (where spirits are normally displayed). Instead, we installed six cabinets, each one marked with a different flavour: Smoke, Fruit, Balance, Fragrance, Sweet, Spice. These cabinets made no distinction for distillery, country of origin, price, or anything other than flavour. This enabled our guests to make informed decisions around what type of whisky they wanted to drink, based on personal preference, occasion and the serve itself (straight, mixed, cocktail, etc.) This system also helps guests to discover similar whiskies that are nearby on the flavour spectrum.
As of May 2021 we have applied these same category principles to all of the whiskies we send you, as well as in our online bottle shop. You will notice that the label on every pouch has one or two background colours which indicate the flavour camp(s) that the whisky sits in. We hope that this will help you to identify the styles you like the most so that you can make better decisions when picking new whiskies to try.
Our online shop is equipped with filters that can select for flavour, so have a play around and see if you discover something unexpected to satisfy your palate.