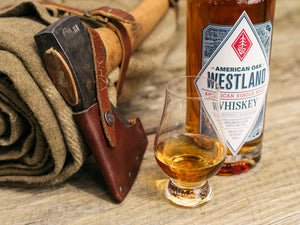 04 February 2022
Westland
Over the past decade Westland Distillery in Seattle has established itself as one of the most respected distilleries in the US, and is famed for producing single malt whiskies in the Scottish style but with a special emphasis on celebrating the Pacific Northwest. In some ways their approach is reminiscent of a new world wine maker making old world style wines. Westland's founders, Matt Hoffmann and Emmerson Lamb view Washington as one of the best places in the world to make single malt whiskey. The Skagit Valley and Palouse Region offer some of the best cereal growing condition in the world. The Cedar River Watershed, which is one of the last unfiltered water sources in a metropolitan area, provides a great water source for the distillery. Westland consider it a "national treasure." Then there's the climate, which is very mild and not at all different to that of the UK.
Although Westland  make only single malt whiskey, they use more than one type of malt do it. They call it a five malt grain bill, which constitutes a blend of Washington Select Pale Malt, Munich Malt, Extra Special Malt, Pale Chocolate Malt, and Brown Malt in varying proportions.
Speciality malts are malts have undergone special heating processes in which the starches are converted to sugars by heat and moisture right inside the hull. As a result, these malts contain more complex sugars, some of which do not ferment, leaving a pleasant caramel-like sweetness. They range from pale gold to dark or burnt browns. 
The five fermentation tanks here are 10,000 litres and made from stainless steel. Westland use a Belgian Saison brewer's yeast—that has a ton of flavour but ferments more slowly and yields a little bit less. It's for that reason that fermentation times can go on for up to six days here. Unusually for a malt whiskey distillery, Westland also add enzymes to their mashes.
"Enzymes are a concession we had to make when we chose to use the darker roasted malts," says Tyler Pederson, production manager at Westland. "We could brew without them, but with them we know we're getting the maximum possible starch conversion."
Their saison yeast is happiest when fermenting at low temperatures between 15 - 20°C (the Scottish influence at Westland extends even to a use metric volumes and temperature measured in celsius). However Westland ferment at around 26°C which they think helps to make a more ester rich beer. The target here is bright fruity ester notes along with some phenolics. Tyler says that the aromas of clove and banana come through in the third day of the fermentation. By the end of the fermentation Westland have themselves a beer of 8% ABV.
Westland products are distilled twice, true to the Scottish style. The stills are made by Venodme, with the wash still weighing in at 2,000 litres and the spirit still 1,500 litres
"Our process is very similar to how they operate in Scotland," says Tyler. "But we do have some things we that are very unique."
One of these unique things is that Westland make a cut in both their spirit distillation and their wash distillation. Tyler collects from the first distillation in two batches, switching when the low wines drop below 15% ABV. The first batch will be on average around 35% ABV and Tyler explains  that if he dilutes this with water to below 27.5% ABV, that a phase separation takes place  and many of the fatty acids that were previously suspended in the solution float to the top of the vat. Tyler then draws off the liquid from the bottom of the tank, leaving the fatty acid oil slick behind. Now that this fraction of the low wine has been cleaned up, it's re-distilled as a spirits run. The purpose of forcing this phase separation is to remove some of the heavier, oily components from the spirit, which lighten the texture of the whiskey and helps promote clean, fruity aromas.
On a typical day Westland will collect around 900 litres of 70% spirit. This will then be diluted with water ready for filling in too cask. Barrels are filled at 55% ABV if it's new American oak and 62.5% for wine cask and other types of used barrels. 
Westland's warehousing is located on Washington's North Bay in a small town called Hoquiam. The 8,000-person town, which happens to be Westland founder Emerson Lamb's hometown, has a steady, predictable and damp climate, similar to that of Scotland: an ideal environment for the maturation process. Westland have about one barrel there for every person living in the town.
There are three main bottlings coming out of Westland: American Oak, which is made from the five grain mash bill and matured for a minimum of three years in a combination of new oak casks and refill bourbon casks; Sherry Oak, which is also made from the same mash bill but aged in a combination of new American oak and ex-oloroso sherry and ex-Pedro Ximenex casks; and finally Peated, which is made from 100% pelted malt, aged in new oak casks and refill bourbon casks, then blended after maturation with what is effectively the whiskey that goes in to the American Oak bottling. Although Westland bottles don't mention how old the liquid inside is, all of their releases are are aged for a minimum of three years.