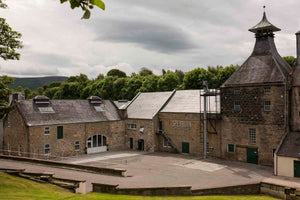 Located in a tight little glen opposite Glen Grant, Speyburn started operation in 1897 and was one of a number of distilleries designed by local architect Charles Doig. The owners of the distillery were John and Edward Hopkins.
Like many distilleries it was absorbed into Scottish Malt Distillers (the malt arm of Distillers Company Limited) in 1916. It then fell silent four a total of four years in 1930.
Jump forward to 1991 and the distillery was acquired by Inver House Distillers and remains under their regency to this day.
Speyburn has a capacity of 1.9 million litres of pure alcohol a year from just two stills. Speyburn is one of a few distilleries in Scotland that use traditional worm tub condensers. Like most worm tub distilleries this method of condensing produces a deliberately sulphury new make which changes in cask to reveal the a delicate, fragrant character.
The distillery fills casks at 69.3%, which is a few percentage points higher than the industry standard, and results in a more oaky lactone (polish, butterscotch) notes being pulled from the cask.