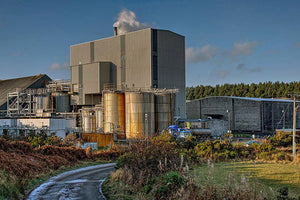 Mannochmore is one distillery from the glut of 20-or-so new whisky factories that emerged in the 60's and early 70's. Demand for scotch whisky was high in during this era and the whisky industry was confident the trend would continue in to the 80's. All of the distilleries built at this time have a few of things in common: none of them are pretty to look at, none of them make peated whisky, and nearly all of them are high capacity workhorses. Crucially though, some of them are hidden gems in respect of their flavour and general availability.
 Mannochmore was built on the same site as the 19th century Glenlossie Distillery, in Thornshill, a few miles south of Elgin, in Speyside.  The opportunity wasn't there however, as demand for whisky took a downturn, and just 14 years after opening Mannochmore was mothballed (closed but not demolished) in 1985. A further 20 distilleries closed down for good. Mannochmore managed to kick back in to action again in 1989 however and Mannochmore 12 Year Old Flora & Fauna was released in 1992. We have featured some of the Flora & Fauna range on Whisky Me in the past (and will likely do more in the future) these being a collection of single malt bottlings taken from distilleries that do not have an official brand or bottling of their own. That is to say, distilleries whose whisky is destined almost entirely for blends.
The number of stills at Mannochmore increased from six to eight in 2013 and total production capacity now sits at around 4.5 million litres per annum, placing Mannochmore firmly in the light-heavyweight category of malt distillery punching power.
The vast majority of the spirit made here goes in to blends, of which Mannochmore has been closely associated with the Haig and Dimple brands. It's quite likely that brands like J&B, Buchanan's and Johnnie Walker also get a share of Mannochmore juice too, since Diageo own both the distillery and the blends.
Mannochmore malt notably appeared in the now retired Loch Dhu ("Black Lake") brand, which became infamous for its strikingly dark colour. The spirit in Loch Dhu was distilled at Mannochmore in 1996 and matured for ten years in double charred casks. The deep char was the rationale for the dark colour, but most people agreed that a liberal dose of caramel colouring played a part too. Either way, Loch Dhu bottles are now collectible and fetch over £300 at auction, in spite of it never being a particularly tasty dram.
Mannochmore spirit is quite light, oily, mineral and often floral in its character. It's a great aperitif style whisky, and performs brilliantly when mixed with soda or as a daily sipping dram.
The 12 Year Old Flora & Fauna bottling is one of the only bottles of whisky with Mannochmore on the label that you're ever likely to see and the only current official bottling since the 2016 special release run of Mannochmore 25 Year Old (of which there are still a few bottles floating around). Even independent bottlers seem to struggle to get hold of Mannochmore spirit, so if you've found your perfect dram in the 12 Year Old you'll have a hunt on your hands trying to find other expressions from this distillery. 
So why not buy a bottle of the 12 Year Old be content with that?
Use WHISKYMECLUB10 at checkout for 10% off.