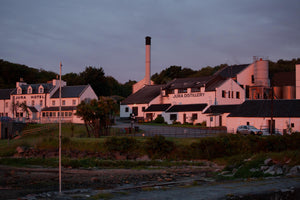 The Inner Hebridean island of Jura is the very definition of remote - George Orwell, Jura's most famous resident (likely its only famous resident) lived there for some time and described the island as "extremely un-get-at-able." Even today you must travel via Islay to get there. Of course unless you're visiting the distillery you might think there's very little reason to 'get-at' jura at all - despite being only a little smaller than Islay, Jura has only one road, one pub, one shop, and less than 200 permanent residents. But it is an absolute beauty and its remoteness only adds to its intruige.
The enormous 'paps' of Jura are the first thing you see, an immediate contrast to Islay's flat and feathered terrain. What might not be so obvious however, are the bogs. Peat bogs. Lots of peat bogs. Which makes it all the more strange that in the past no peated whisky was made on Jura. Actually, that's not technically true, travel back to 1810 where we find the origins of the distillery and the whisky produced there would certainly have been smoky, as was the general trend at that time. The main town of Craighouse - and one time name of the Jura distillery - was chosen to be the setting for the premises. For a good thirty years before then it had been a smugglers operation, set in the seclusion of a small cave the walls of which had been tapped to allow the flow of a small stream through its middle.  After becoming a legitimate distillery it ran for about a century before finally grinding to a halt in 1910. When Alfred Barnard visited in 1885 he found the equipment to be "of the most modern description", but it would appear that things ran in to disrepair over the years (not for the last time) and all the equipment was removed upon its closure.
In the 1960's Jura was brought back from the dead, however. Two local land owners, Robin Fletcher and Tony Riley-Smith refurbished the distillery to an exceptional standard for the time, and began producing light and fruity malt whisky, as was in great demand by the blenders during that period.
This light approach continued with the current owners, Whyte & Mackay, up until quite recently. The flavour of young Jura being that of mushy yellow fruit, warm cereal and pleasant green things. Now though we're beginning to see more interesting releases as this distillery finally gets the chance to stretch its legs, some of them peated, some with more sherry or wine cask influences, very good older expressions too. 
In August 2021 we featured Jura 18 Year Old, which sits at the top of the Jura 'Signature' range. Aged for 18 years in bourbon casks before a finish in red Bordeaux casks, this carefully balances the distillery's soft smoke with weighty flavours from the barrel.
We detect plenty of coffee and chocolate characteristics in this dram, with some soft smoked cereal flavours as well and of course a little hint of that fruity red wine cask. So think smoky black forrest gateau and you're not far off.
This plays in nicely to Jura's own suggested serve, which is for a dram of Jura 18 alongside some frozen raspberry sorbet or frozen yoghurt. 
What a treat.
In August 2022 we're featuring Jura Seven Wood. This whisky starts life in ex-bourbon casks,before a portion of the whisky is split between six different virgin oak casks sourced from across various wine regions of France. The result is a whisky with tonnes of stone fruit character (peach, nectarine) that is quite uncommon in scotch. It's a non-age statement whisky but don't let that put you off. This whisky is the product of some careful cask sourcing and very smart blending.