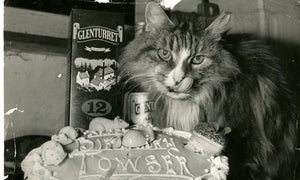 The Glenturret is one of the more accessible distilleries in Scotland, being only an hour's drive from both Glasgow and Edinburgh, and just ten minutes from Perth. So it's surprising to learn that the location was previously used to conceal an illicit distilling operation that was the precursor to Glenturret, going back over 250 years.
In 1763, a document relating to Sir Patrick Murray of Ochtertyre makes reference to Thurot Distillery, the earliest known name for Glenturret. The Murrays of Ochtertyre were local landowners and farmers, and passionate brewers and distillers. The 1763 record states that Thurot Distillery had been 'several years not charged', which means it was not operating at that time. So we can assume the Murrays were distilling on this spot before 1763. t's this historical timeline that is the basis for Glenturret's claim of being the oldest working distillery in Scotland.
This is the the foundation of The Glenturret's claim of being the oldest working distillery in Scotland, a claim that is contested by one or two other older operations.

The distillery was originally known as Thurot, later becoming Hosh, when it came in to the possession of the Drummond family. It was only in 1875, when Thomas Stewart took over the distillery, that the name was changed to Glenturret. A tributary of the River Tay, the River Turret has always provided Glenturret with its water. Several times in the distillery's long history, great floods have pushed the river to breaking point, as was the case during the great storm of 1828, when the Perthshire Courier reported that the distillery was "completely inundated" with water, and "the utensils carried off and spirits destroyed."
Towser, a female long-haired tortoiseshell cat, was the resident pest control expert at Glenturret from 1963 till 1987. She was an officially recognised record breaker, having been estimated to have killed 28,899 mice in her time, the corpses of which were laid out on the still house floor each morning to be inspected by the stillman. The auditors for the Guinness book of records observed Towser's prowess over a number of days, and her total kill count was estimated statistically. She was commemorated by a bronze statue at the visitor's centre at Glenturret and her story was featured on BBC Television's Blue Peter.
Glenturret make predominantly unpeated spirit but, like many other distilleries, do distil peated malt for a week or two every year. Glenturret Peated Edition is the fruits of this short period of production, aged for ten years in a combination of ex-bourbon and ex-sherry casks.