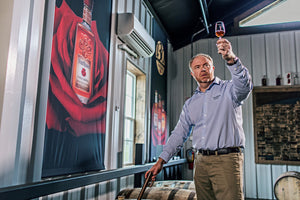 The history of the Four Roses brand and distillery is as convoluted and complex as any a Kentucky bourbon brand, so pour yourself a measure and settle in... this may take a while.
Let's start with the version of history that the Four Roses brand likes to promote. This is a romantic one, centred around the company's founder, Paul Jones, Jr., and the the love of his life whose name seems to have been lost somewhere along the way.

Jones was born in 1840 in Lynchburg, Virginia, to a very affluent family. The story goes that a 20 year old Jones took an interest in a beautiful young woman from Atlanta. At that time, the city was holding its annual grand ball, which was exactly the sort of place the young eligible men like Paul Jones Jr. were expected to be seen and the perfect place to woo a nice southern belle. As was the custom at the time, Jones sent her a marriage proposal in writing by personal carrier. In upper society they used a Victorian tradition called "flower language" to communicate. In the letter, he wrote, "when you show up at the ball, if you are wearing a corsage that has three roses I will consider it a rejection of my proposal. But if you wear a corsage with four roses it will clearly state your intention to accept my proposal of marriage." After over an hour of an agonising wait, she showed up wearing four red roses.

If this story is true, something must have gone wrong not long after because Jones remained a bachelor for his entire life.

Jones fought as a Confederate lieutenant in the Civil War along with his brother, and was called by General Robert E. Lee to defend the city of Atlanta in 1864. His brother died in the Battle of Atlanta and when the South finally surrendered in 1865, Jones, according to one account, "returned home to find his home in ruins and the family destitute." His family's wealth which before the war had been considerable had been invested in Confederate bonds and was gone.

Jones and his father relocated to Virginia where Jones worked as a salesman under distiller Rufus Rose (who turns out to be a more plausible source for the name of the Four Roses distillery). Rose was from Connecticut and a pharmacist by trade. He relocated to Atlanta, where he started a whiskey producing enterprise he called "House of Rose" in 1867. He built a large distillery on Stillhouse Road in nearby Vinings and established a retail store for selling whiskey in the downtown Atlanta. Amongst the products he made was Rose's Atlanta Spirit Rye, Rose's Mountain Dew, Blue Ridge Whiskey, New Sweet Mash, Old Reserve Stock and Special Old Corn.

Things went well for Rose and they were going well for Jones too. By the 1880's Paul Jones Jr. had established a sizeable liquor distribution business thanks in part to the volume of liquor that Rufus Rose's distillery was turning. Georgia had other plans though, as it began experimenting with temperance and passing state legislature in 1884 with a temporary law banning the sale of alcohol. Paul Jones saw the writing on the wall and relocated to Louisville, Kentucky.

Rufus Rose stuck it out for a while but when Georgia went dry in 1907, R.M. Rose Distillers were forced to relocate to Chattanooga, Tennessee. Rufus remained in Atlanta while his son, Randolph followed the operation to Tennessee. Rufus was still involved in the business however, and in 1906, according to accounts, he came up with the special blend that he called "Four Roses."

Meanwhile, Paul Jones Jr. had bought himself a distillery in Kentucky.

In the mid-1800's John Graves Mattingly, of Marion County, KY, built several distilleries. One of them was named J. G. Mattingly & Sons in Louisville, built in 1845 and the other was called the Marion County Distillery which was built in 1866.

The fist of these, the J. G. Mattingly Distillery, was located between High and Rudd Avenues and 39th and 40th Streets had fallen in to financial bother. In September of 1889, the distillery ceased operation and went up for auction. Paul Jones bought it for $125,000 — equivalent to about $3 million today. The deal included a mill and fermenting house, a boiler house, a distillery spirits building and a cattle barn. The property also held five warehouses, all of them brick with slate or metal roofs. The distillery went on to become one of the most productive operations of the late nineteenth century, producing whiskey under the brand names, Paul Jones, Jones Four Star, Old Cabinet, Old Cabinet Rye, Small Grain, West End, and Swastika (in the pre-Nazi days the swastika had very different connotations and the motif is found in some traditional Native American art).

Paul Jones Jr. died in 1905, which was around the same time that a fire destroyed the J.G Mattingly still house. With no children the business went to Warner Jones' son (Paul's nephew) Lavelle Jones. Meanwhile, R.M. Rose wen't fairing much better, as Tennessee enacted statewide prohibition in 1910. Possibly in frustration, Randolph Rose sold the Four Roses brand name to the Jones family.

Two years into Prohibition the Paul Jones Company purchased the Frankfort Distilling Company and its Old Prentice Distillery. This distillery was built in 1910, on the banks of the Salt River, with Spanish-mission style architecture rarely seen in Kentucky. It's is now listed on the National Registry of Historic Places. This is the present day Four Roses distillery.


Most distilleries were rendered non-operational during prohibition, but the Old Prentice distillery was one of six distilleries granted permits to sell their existing stocks of bourbon for medicinal purposes. It is one of the only examples of a distillery that stayed afloat during prohibition, accounting for roughly one in every five bottles of whiskey sold in the USA.

That said, by 1928, stocks of pre-Prohibition whiskey had dwindled and the company contracted the Louisville-based A Ph. Stizel distillery to supply them with spirits (another distillery granted a medical license). When Prohibition was repealed in 1933, Frankfort Distilleries Inc. took over the old Stitzel plant and built another distillery in Shively. Prohibition was undoubtedly a setback for the Paul Jones Company and its subsidiaries, but following repeal they had a valuable head start over their rivals. 

Lavelle Jones died in 1941 and, in 1943, the Paul Jones Company sold all of its liquor interests to Seagrams. By that point the Four Roses had become the biggest bourbon brand in America.

So it was more than a little surprising when Seagrams took the decision, two years later, to focus on export markets, like Japan and Europe, and bottle a re-hashed, blended version of Four Roses for US stores. Seagram's were a Canadian company, so blends and blending came naturally to them, but by all accounts the liquid was pretty bad, a combination of aged and up to 66% un-aged spirits from Seagram's Lawrenceburg, Indiana (now MGP) and Maryland distilleries. It took a few years, but consumer faith plummeted in the US, as Seagram's attempted to dupe them with identical packaging to the old Bourbon, but with the word 'Bourbon' quietly removed. It would appear that Seagram's intuition was to snow-plough their newly acquired Bourbon out of the market place to make way for their '7 Crown' and 'VO' Canadian whiskies—cannibalisation, in effect.

In the latter part of the twentieth century, production at what was now known as the Four Roses distillery was overseen by Charles L. Beam (a grandnephew of Jim Beam). During Beam's tenure, Four Roses introduced Benchmark Bourbon in 1969 and Eagle Rare in 1975. Charles Beam retired in 1982 and both brands were sold to the Sazerac Company in 1989 and are today made at their Buffalo Trace Distillery.

Four Roses Straight Bourbon continued to be produced for export, but true to the Canadian way it was blended from five distilleries located in Athertonville, Fairfield, Louisville and Cynthiana, along with the Four Roses distillery in Lawrenceburg. All five Seagram bourbon distilleries used the same yeast culture at the time, known simply as "V". Slowly they got mothballed however, but each of their unique styles were re-imagined in Lawrenceburg by introducing new yeast strains in to the mix.

Jim Rutledge, served as Four Roses master distiller for 20 years beginning in 1995, and finally finally handing over the reigns to Brent Elliot in 2015. Whisky Me co-founder, Tristan, met Jim a few times during his posting and can recall some of the conversations they had.

Jim didn't draw any direct comparisons between the old whiskeys of the closed distilleries and the whiskey produced at Four Roses today.
"It's the water they used that characterised the product," he said. "Instead we use yeast to create a diverse stock of Bourbon that can be blended to our unique flavour profile."
The distillery uses five proprietary yeast strains each coded by the letters 'K', 'O', 'Q', 'F' and the original 'V'. The "Q" yeast, for example, is known to produce a floral spirit with notes of magnolia and rose. The "F" yeast, on the other hand, makes a minty, herbal smelling spirit.

At Four Roses Distillery, the team run a different yeast strain each week, which helps to prevent cross-contamination of each of the strains. Yeast is pitched in to one of the distilleries 27 fermenters at exactly 67°F, and fermentation lasts around 4 days.

In addition to the yeast, Four Roses use two separate mash bills, 'B'- which has 35% rye, and 'E'- which has 20% rye. This means that ten unique white whiskies are produced, each of them different before and after they're dropped in to wood. Four Roses Yellow label is a blend of all ten yeast/mash combinations, Small Batch a blend of only the 'S' and 'K' yeasts with both mashes, and Single Barrel is always selected from the 'B' mash and 'V' yeast.

Production volume at Four Roses is now at 8 million proof gallons, or enough to fill more than 130,000 barrels a year.

Four Roses mature and bottle their products in Cox's Creek—around 50 miles from the distillery. These warehouses are unusual for Kentucky, since they cling low to the ground like military bunkers waging a war with gravity. Casks are racked only one tier high, which explains the enormous footprint of the warehouse and the relative consistency of maturation between any two barrels,
"We only get a five degree temperature fluctuation between the top and the bottom of the rack" says master distiller Brent Elliot, "which is nothing compared to the six-tier houses that other producers use."
The following is an anecdote from The Curious Bartender's Whiskey Road Trip, written by Whisky Me co-founder, Tristan Stephenson:

I can recall a conversation I once had with Jim Rutledge in the office of the Four Roses distillery. During the course of our meeting, he casually informed me that he had already made the best Bourbon any of us are likely to taste. The only problem was it had all been sold already, and even he only has half bottle left. The story started back in 1995, just after he had been appointed the role of master distiller. By way of seeking employee approval, he decided to give the staff a couple of weeks off over the festive season. The distillery operation was winding down and for one reason or another a sample of 'V' yeast was left in the propagator too long and begun to mutate. A lab technician beckoned Jim over to the microscope and what he saw was the Arnold Schwartzeneger of yeast cultures, which had mutated in to virile little hunks. Fermentation of the mash ensued, producing a one-of-a-kind fruity beer, and in-turn the resulting white whiskey was the best Jim had ever tasted—in his own words, "Everything the mutated culture touched, turned to gold." Unfortunately, by that point the super-yeast in question had been disposed of and to this day remains extinct.

The white dog was put to cask, and as time went on it developed slowly, Jim recognised early on that this was a bourbon that would require more time than most to reach its full maturity. But eventually it did. Eighteen years later—an unusually long time for a Bourbon. The mutated 'V' culture whiskey was blended with two 13 year old whiskies and bottled as the 2013 Limited Edition Small Batch 125th Anniversary. Also, in absurdly-small volumes, Four Roses created a special selection bottling of the 18 year-old casks only.

As Jim recounted the story to me, he thoughtfully gazed out of his office window at the custard-yellow 'mission' style buildings that populate the distillery, then he said "If I'd have kept a sample of that yeast, right now I'd be making the best Bourbon anyone has ever tasted, every day."