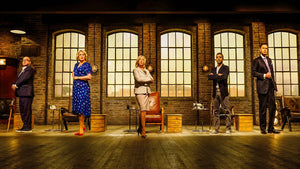 06 May 2021
Enter the Dragons
We have some exciting news to share with you!
Back in September, Tom and Tristan travelled to Manchester with a suitcase full of Whisky Me pouches (and a head full of dreams...) to film with the BBC show Dragons' Den. In case you are unaware of the show's format, it sees entrepreneurs pitch their businesses to a panel of multi-millionaire investors with the hope of taking one (or more) of them on as a partner. Dragons' Den has helped to grow brands like Levi Roots and The Craft Gin Club to name but a couple.
No spoilers here I'm afraid, as the BBC asks participants not to reveal whether their pitch was successful until after the show airs. Truth be told it's been a bit of a struggle for us to keep quiet for the past nine months!
If you are interested to find out how we did (or just want to watch us squirm!) be sure to pour yourself a large whisky - perhaps your May dram? - and tune in to BBC1 at 8pm on Thursday 13th May.
Keep an eye on this blog and our social media channels too, as we'll be posting more about our experience in the Den soon!
For press and media enquiries please contact laura@whisky-me.com