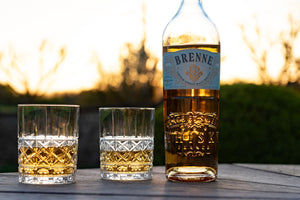 Brenne is a French single malt brand that was founded in 2012 by former ballerina turned whisky entrepreneur, Allison Parc. Teaming up with a third-generation cognac maker, Brenne is made at a traditional eau-de-vie farm-distillery in the heart of Cognac, which has been producing the base spirit for cognac since the 1920's. The alembic stills used to make cognac work under the same principles as the copper pots we find in Scotland, so the distillery was able to turn its attention from distilling wine to distilling beer.
Allison self-distributed the first bottles of Brenne via Citi Bike in Manhattan. The flagship Brenne Estate Cask sold out within two months and Allison expanded distribution to 35 states, and France, over the next few years. Her second expression, Brenne Ten, was introduced in October 2015; only about 300 cases of the limited-edition 10-year-old single malt whisky are available each year.
Two types of heirloom barley grown on the estate are the starting point for Brenne. After malting, a proprietary strain of yeast is used, creating a beautifully floral mash.

This is then twice-distilled in an alembic Charente still, creating a fruit-forward new-make spirit that pairs perfectly with the floral notes of the starting mash. This distillation process is thought to take the whisky in a more floral direction than if it were distilled in copper pots.

The spirit is matured in new French Limousin oak and Cognac casks, before being proofed with water from the Charente river for bottling. Brenne is the first single malt in the world to be aged exclusively in these two types of barrel.
In 2017, 2018, and 2021, Allison was named World Whisky Brand Ambassador of the Year by Whisky Magazine's Icons of Whisky, USA, becoming the first woman to receive the award and the only three-time recipient of this honour.