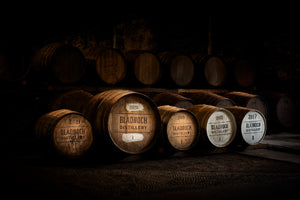 04 February 2022
Bladnoch
Bladnoch Distillery is a Single malt Scotch whisky distillery in south west Scotland. It is one of six remaining Lowland distilleries, located at Bladnoch, near Wigtown, Dumfries and Galloway, making it the most southerly malt distillery in Scotland (Newcastle is further north!). Bladnoch has been a hotspot for whisky tourism for a few decades, partly due to its quintessentially rural aesthetic that still hints at the working farm that once occupied the site.
Bladnoch's history as a distillery dates back to 1817, when John and Thomas McClelland were first granted a licence to distil Whisky on Bladnoch farm located on the banks of the Rive Bladnoch.For nearly a century, successive generations of McClelland family grew and modernised the distillery. At its peak, the site had six washbacks and annual production of approximately 230,000 litres of alcohol, granting it the moniker "Queen of the Lowlands"
More recently, the distillery was owned by Arthur Bell & Sons (which would later become part of Guinness/United Distillers) between 1983 and 1993, a period during which the brand's distribution was increased and a visitor centre was established.  At the start of the Bell's era the whisky made here was light and floral, but the blender's template of nutty and spicy became the norm towards the end of its ownership. 
Following a slump in demand United Distillers closed the distillery in 1993 and ownership transferred to Raymond and Colin Armstrong, who initially had plans to turn the site in to a holiday village. In fact, this was a condition stipulated by United Distillers within the terms of the contract. No whisky production was permitted. The brothers had a change of heart however, and spent six years petitioning UD to remove the condition, which they were finally granted in 2000 (albeit with a limit of 100,000 litres a year - a paltry volume by any malt whisky standards). It's for this reason that most of the income in this era came not from selling whisky but hosting events and renting warehouse space to other distillers.
This, unfortunately, meant that the business was unable to sustain itself. The distillery was mothballed in 2009 and the company went in to administration in 2014. 
Then along came the Australian entrepreneur, David Prior, who acquired the company from Raymond and Colin Armstrong, and began an extensive refurbishment of the distillery and a return to the grassy, light lowland style of years past. 
David Prior is the only Australian national to own a Scottish malt distillery.
Vinaya is matured in a combination of fist fill sherry and bourbon casks, revealing notes of fresh apple, sweet floral grass and  chocolate. 'Vinaya', a Sanskrit word meaning respect and gratitude, pays homage to the original founders of the distillery who paved the way, as Bladnoch looks forward to an exciting new era of production and innovation.